I HOPE THIS article finds you well and that you enjoyed your summer.
Perhaps you've had some time away from the gym floor, went on holiday or found yourself training outdoors with a couple of the workouts I've given in the past.
For many of us September can be a month where we start to refocus, aim to get back into a routine, or maybe try ignite the fire for hitting a few new goals again.
It's easy to find yourself a little lost on your fitness path or lacking some of the motivation that you had before the summer.
The summer is there to be enjoyed from sunny festival days, the odd extra trip to the beer garden or even a holiday away full of indulgence.
I'm a big believer in having that balance when it comes to health, mindset and fitness.
Every September I see a common trend of people who have taken the foot off the pedal, enjoyed themselves that little bit more in the summer, and are aiming to get back on the fitness buzz.
Getting back into old ways can be hard and it can take some time to build up motivation to go again.
The initial stages are always the most difficult but once you have overcome that you will be back to where you left off in no time.
For those struggling to get going again, this small checklist should help you out.
Build yourself back up again slowly
Let's start with nutrition. When the food plan goes out the window it is usually soon followed by sloppier workouts and a lack of regularity and consistency.
This is a common trend that can be avoided by starting your day right.
This might mean preparing your food one night for the 2-3 days ahead, or simply starting your day by drinking some water or ensuring you're getting more green, leafy veg into your diet.
These don't have to be big changes that you already had nailed down. Make them small for the first week or two. I always tell my clients not to go all-in again from the start. For most people, this won't work.
We all know that one person who gets back into a new healthy routine, goes out and buys all the supplements under the sun, does the morning and evening gym visits and eats like a rabbit for lunch. But then two weeks later they are nowhere to be seen and back to their old ways.
If you need more info on nutrition then check out the article I did here in a previous blog.
Exercise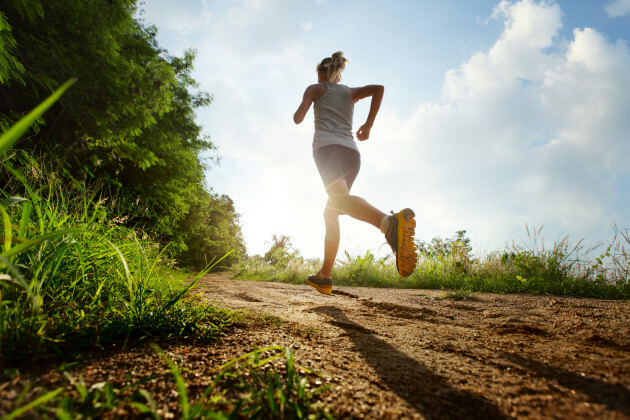 Source: Shutterstock/Dudarev Mikhail
As for the exercise, it's also important not to dive back into the deep end. It's great that you're back but don't overdo the first few workouts.
Focus on basic mobility/stretching work for 15 minutes each day. Make it a part of your day and work on areas like inactive glutes and tight hamstrings.
It's also very beneficial to spend some time slowing down by working on meditation, yoga or even basic breathing drills to help regenerate yourself.
Tools I generally use here are lacrosse balls, foam rollers and resistance bands. Other fitness apps/websites I find useful are RomWod or Headspace.
Bring in some aerobic work too — get out and run, walk, bike or swim for at least 1-2 sessions a week, again at a relatively comfortable pace.
The goal here is to ease back into your fitness routine.
Weights
For others, you may be getting back into the weights room. Again, keep the strength training simple by picking 2-3 exercises per session and work off that.
This could be something like a moderate load with a back squat paired with some lat pull-down machine work, before finishing off with some basic hollow hold work to get your core firing again.
The next day keep the structure relatively the same with a trio of exercises but change it up, perhaps with a hinge exercise with a moderate load, like a deadlift, with some pressing overhead work, a dumbbell chest press for example, before finishing off with a basic plank.
You don't need to be setting new records at this stage as you are getting back into the groove — that rarely ends well.
If your motivation is low to get going again, consider aiming for something new, a real challenge that will keep you accountable. The options are endless.
Pick something that you enjoy, don't turn this into a chore. Sign up for a 5k run, join a tag rugby team, learn to swim, sign up for a triathlon, hire a personal trainer or look at going down the semi-private training route.
WellFest
Something else that might get your fitness motivation firing again is Ireland's only health, fitness and wellness festival. WellFest is on this weekend (17/18th September) in Dublin's Herbert Park where there should be lots of excellent fitness advice on offer.
I hope this information has helped you out and if you need any more help or direction with your health and fitness, feel free to get in touch.
David Last is a personal trainer based in Dublin, for more information you can follow him on Facebook, Instagram and Twitter