WALKING INTO THE gym it's obviously been a good session — Ciarán Burns has sweat on his brow and a smile on his face.
Burns is a changed man these days, in so many ways, having lost eight stone, nine pounds (55kg) in the past 10 months. And he's not finished yet.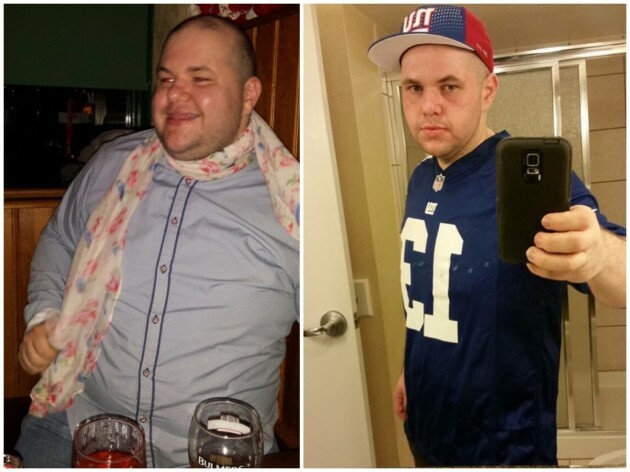 A before and after shot of Ciarán Burns.
A load has been lifted from the 29-year-old's body and mind, to the delight of his family and friends. Many of them couldn't believe their eyes upon seeing him in person during the recent festive season.
"Over Christmas I had a lot of friends who hadn't seen me in so long," Burns said. "And when people see me in the flesh they're just amazed."
Burns feels like his old, happy, teenage self once again. These days he beams with pride, a far cry from the low he found himself at last March.
The hard work is paying off and Burns is treasuring his new lease of life.
"I feel brilliant these days. Training is my favourite part of the day.
"I feel back to myself when I was 16, 17 or 18. I just feel so much happier and more confident. I'm never in bad humour anymore."
Drastic
Last March, Burns decided something drastic had to be done. He weighed 23 stone, four pounds (148kg) and had been struggling, physically and psychologically, for some time.
An underactive thyroid in his early teens didn't help matters and Burns started to put on weight despite being active — playing football, among other sports.
"I was always bigger than all of my mates. I was always overweight as a teenager but I was always very sporty, very quick. That never held me back when I was younger. Only more so in the last five or six years; I lost a lot of fitness then.
"It was probably when I was 23 or 24 that I just got bigger and bigger and bigger."
But it was when he started his job as a shop fittter; spending long hours on the road, in hotels, and working unsociable shifts, where he saw his health really start to deteriorate and the weight begin to pile on.
Soon, the problems began to appear — gout in his left knee saw him hospitalised for a month and led to significant muscle wastage in the leg.
His mobility had reached an all-time low. He now had a gout-enforced limp. His health was on the slide and his knee trouble was proving to be another major obstacle as he sought to address his weight problem.
Another doctor's visit really hit home.
"I remember the doctor saying, 'the next step for you is diabetes'. That was a bit of a wake-up call," Burns explains.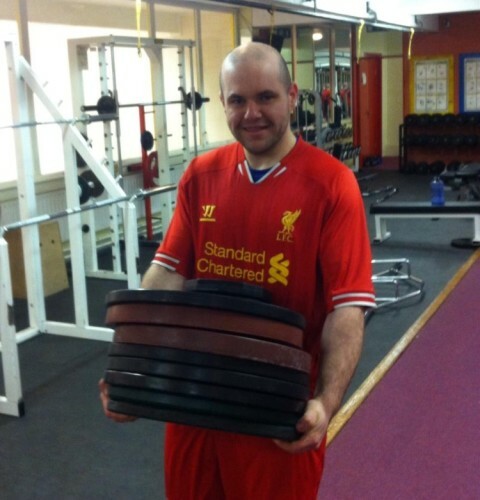 Burns carries 55kg, the amount of weight he has lost since March 2015.
Burns insists he has always been mentally strong but admits that was a particularly low point.
It was then that he really realised he needed to make a fresh start.
Burns was desperate for a clean slate to sort his problems out once and for all.
But his irregular work schedule as a shop fitter was the initial major hurdle. That was the first step on this difficult and daunting road — the job had to change.
"I always knew I had to do it but the job always held me back. I liked the job but I needed to leave to give the weight loss a real go.
"Obviously, you know it's (the weight loss) going to take at least a year as well. So it's a big commitment."
Impressive
A close friend had recently undergone an impressive transformation under the tutelage of a local personal trainer, who was known to Burns socially from a number of years before.
After persistent persuasion, Burns decided to visit the place where his friend had made such remarkable progress. So, up to David Last's training centre he went, which was then in a shed out the back of Last's family home in Rathfarnham, on Dublin's south side.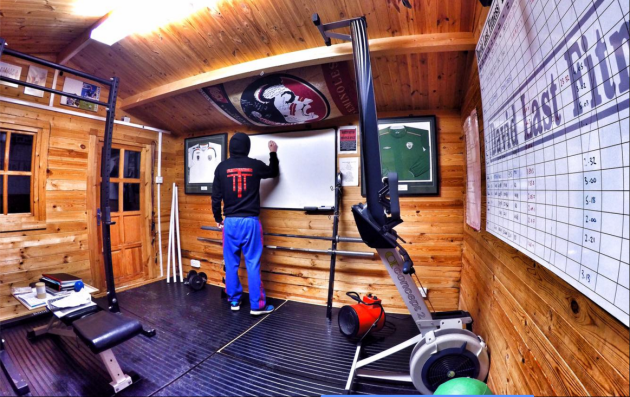 Last's gym in his back garden in Rathfarnham.
On arrival at Last's "fitness centre" his would-be trainer was taken aback by what he saw. It had been three years since he had seen Burns, who now weighed 23 stone, four pounds (148kg). And Last, who had been a personal trainer for six years at that stage, had never taken on a project like this before.
"We sat down and broke the ice because we hadn't seen each other in a while," Last recalls.
"So then he told me his goals and straight away, I had a feeling that he actually really wanted it."
So what kind of work did Last and Burns begin with?
"I just wanted to move him for a certain amount of time," Last explains.
"Mobility was the key. Nothing crazy, just do the basics. And get his heart-rate up to a certain level; not too high and not too low, just enough to make him uncomfortable and try and hold him there for as long as we could.
"Then we focused on the basic movements that I feel work best; squatting, pulling, carrying. That kind of thing."
Special
After a couple of gruelling sessions Last knew he had something special on his hands — Burns' tenacity was on a different level to anything he had seen before. And the pair learned from each other as they went along, forming a tight bond that is obvious when spending time in their company.
Last is in awe of his client's achievement to date, freely admitting that the rate of Burns' progress is something he wouldn't have been able to match, were the roles reversed.
"I train a lot of clients. especially around this time of year, and they want to do what Ciarán has done," Last said.
"But they have to realise it really is a long-term thing. It's not going to happen in 21 days. And I could see from him there and then that he was willing to show up when he had to show up. And we just took baby steps from there really.
"We started off at two times a week and then two sessions became three and three became four," Last, a former League of Ireland footballer with UCD, said.
"And then five within a month," Burns is quick to add, with a smile.
Burns, a huge St Patrick's Athletic fan, started a new job delivering parts for Ford. This allowed him to structure his days around cooking, hydration, eating and training.
Adapting to a regular sleeping pattern was one of the toughest adjustments.
"The first thing for me was getting my sleep right. And that took a couple of months.
"I wasn't sleeping right for a few years, I felt like I had a fog on my brain. And I felt like that was gone after a few months. I could think clearly again.
"The next step was cooking regularly. And once I had those things covered I was ready to focus on training."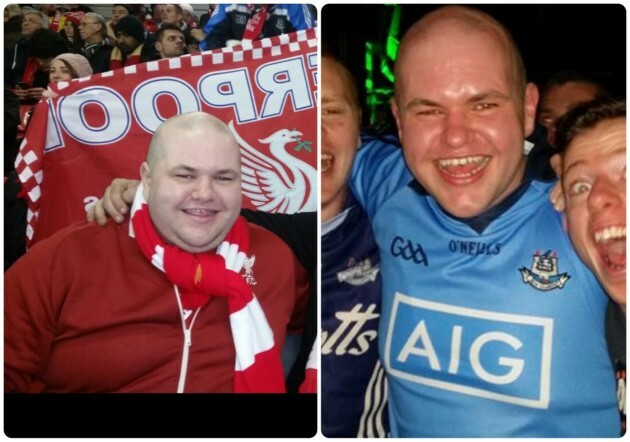 The weight didn't fall off immediately. It was a slow slog for the first few months, but when they bumped it up to four sessions per week the progress was rapid.
In July, Last needed more space for his growing business. So the pair, they really see themselves as a team in this, moved their sessions to Last's new training base, in the gym of Burns' former secondary school — De La Salle College, Churchtown.
As time went on, Burns' dedication never wavered and he managed to organise his training schedule around special events — usually the kind of thing that most would use as an excuse to skip training. And that's something that struck a chord with his trainer.
Last recalls the weekend Burns was going to see the Foo Fighters in Meath.
"He was meant to go down to Slane at about ten o'clock that morning but he still said, 'I'm coming in Dave if you can fit me in at 7.30′. And he came in that early and then went off to Slane."
Changes
After achieving so much in such a short space of time, what were the key changes that Burns made?
"Sleep, hydration, diet and training — and in that order too."
Once those elements are aligned, Burns believes the rest should fall into place with the right work ethic. And after the initial few months there is a bit more leeway for including occasional rewards in your lifestyle.
"I think it's very important to be very strict on yourself for the first few months. I didn't really drink at all for the first two months.
"As part of the diet plan that Dave gave me, there is a cheat meal built into it. But I'd still keep that reasonable; you'd keep it healthy enough but something you still really want to eat.
"Then when you start to get further into the training you can maybe go out a night every two or three weeks. And it doesn't really affect you because you're training hard. You have to earn your nights out or your cheat meals."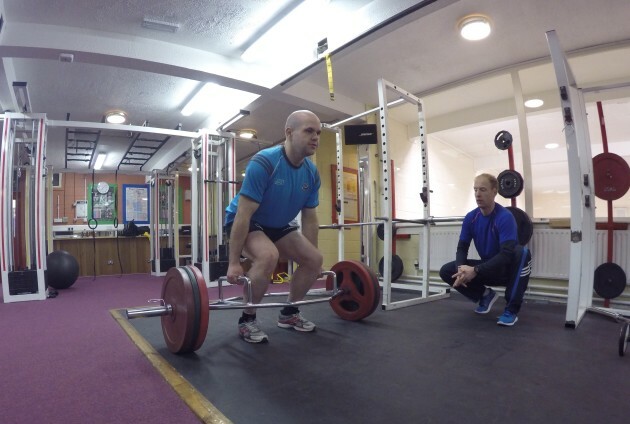 Burns and Last get down to work in Churchtown.
And what would he advise someone who finds themselves in a situation similar to the one he was in this time last year?
"If you have a bad diet the key is to get into a good routine. I think it takes maybe three or four weeks to build a routine to the point where it becomes second nature.
"I think you need to realise you're in it for the long haul. All the bad food is pretty much gone and you have to accept that. You have to wipe the slate clean and make a life-long change.
"I feel lucky that I did it (lost the weight when I did) but I regret not doing it sooner. That's the good thing maybe for young people in a similar situation who might be reading this. Don't wait, just do it now. There's no time like the present."
Burns' long-term goal is see his overall weight loss total 10 stone (64kg) by 13 March, which will mark 12 months since he first walked into Last's garden shed.
As he ponders whether he can hit that target, Last interjects: "It's definitely possible."
His trainer has no doubts. It's easy to see why.